Gavin Badger hopes to continue officiating until he's close to 50, making him the oldest NRL referee in half a century.
The respected whistleblower's 300-game milestone passed last week with less fanfare than Paul Gallen's, but don't think he's not as hungry as Cronulla's premiership-winning captain.
At 45, Badger just wants to keep refereeing.
"I'd love to do it forever. I enjoy it so much," Badger told AAP.
If he carries on for two more years, league statistician David Middleton believes Badger will be the oldest ARL/NRL referee since 1968.
"Col Pearce was 51 in 1968 and Cliff Brown was 52 when he refereed first grade in 1962," Middleton said.
Badger attributes his longevity to his fierce devotion to physical conditioning.
"I've always luckily been reasonably naturally fit. I'm only a little guy so I don't carry much weight," he said.
"It's the reason why I've been able to hang around for a long time.
"At 45, I'm now the fittest I've ever been in my life.
"One thing I really push with the young referees at the moment is you can be the greatest referee in the world but if you're not physically fit now, you're not going to get there.
"The game is too quick."
Bill Harrigan's all-time record 393 games is not out of reach for Badger.
But the veteran is unsure if he'd like to surpass his idol, who also controlled 10 grand finals and 21 State of Origin matches and 25 Tests before retiring in 2003 at 43.
"I've always said that I've had a pretty good run at what I do and I wouldn't like to hold up someone else's progression and I think if someone is going to be better, coming through to take my spot, that should happen," Badger said.
"Who knows? I'd hate to pass Bill, just for the fact that it'd be very similar to Mark Taylor when he retired so he didn't pass Donald Bradman's record.
"Bill's someone to look up to, Bill's a mate and I don't know if I'd feel right passing Bill's record."
NOTABLE VETERAN ARL/NRL REFEREES (RETIREMENT AGE IN BRACKETS):
Cliff Brown (52) – 172 games 1947-62
Col Pearce (51) – 343 games, nine Tests 1946-68
Shane Hayne (46) – 356 games 2001-14
*Gavin Badger (45) – 301 games *includes Thursday night's R23 match.
Tim Mander (44) – 291 games 1992-2005
Darcy Lawler (44) – 272 games 1944-63
Bill Harrigan (43) – 393 games
Tony Archer (43) – 319 games 1999-2012
Jack Danzey (42) – 172 games 1973-83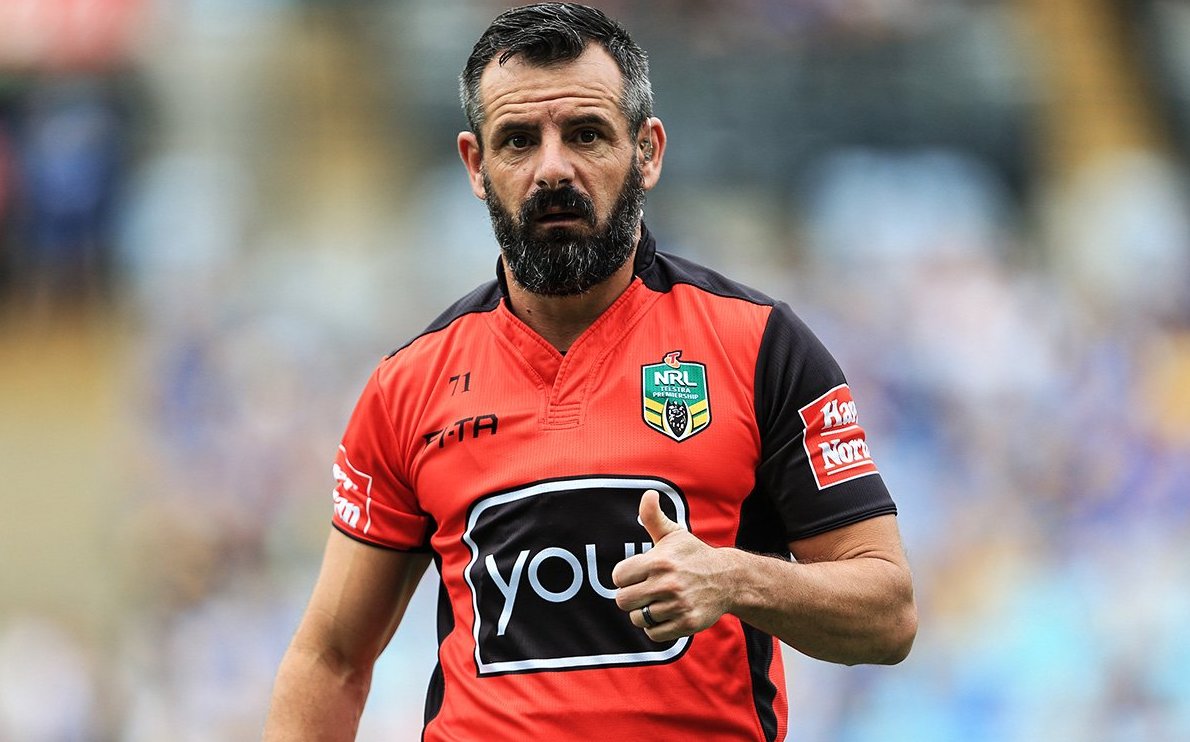 2017