The 1980 State of Origin game was the first game between the Queensland Maroons and the New South Wales Blues rugby league teams to be played under "state of origin" selection rules.
It was played on 8 July, 1980 under the newly configured rules by which a player would represent his "state of origin", i.e. the state in which he was born or in which he started playing registered first grade rugby league football. It was the third match of 1980s annual interstate series between the Blues and the Maroons, and was only allowed to go ahead because the first two matches and the title were already won by New South Wales.
It was a huge success and played at Lang Park in Brisbane. Crowd was 33,210.
Prior to the experimental match, the State of Origin concept was derided by the Sydney Media. The Daily Mirror's Ron Casey showed his opposition to the game, and his bias towards Sydney as a whole when he called it a 'Phoney Promotion' and wrote in his newspaper column: "To the Queensland hillbillies in Premier Joh's Bananaland, the State of Origin match might be a big deal, but to those in the land of the living, here in Sydney, its just another match without much meaning".
One member of the Sydney media who welcomed the game was Ray "Rabbits" Warren, who wrote in the Sunday Telegraph: "I know a lot of people are upset at the go-ahead of the State of Origin game, but I congratulate those who pushed it through. Queensland and NSW Country areas need an injection of life and this match can do nothing but good for the game north of the border."
Former Australian test captain and at the time coach of Eastern Suburbs Bob Fulton, who would later go on to be a successful Australian coach and ironically become a long-term NSW Origin selector, was also against the concept. He wrote in The Daily Mirror that "Rugby league's non-event of the century will be staged in Brisbane next month, a totally useless State of Origin clash between NSW and Queensland. Only the AU$30,000 gate could make it acceptable to administrators … No Sydney club could possibly want the match but no doubt it will go ahead. As far as I'm concerned it's strictly a non-event and will achieve absolutely nothing."
Alan Clarkson, a journalist for The Sydney Morning Herald wrote of the State of Origin experiment, "I was strongly against such a match, but last night's gripping clash showed that such a fixture would be a welcome addition to the League program."
The game was Refereed by Great Britain's Billy Thompson and the NSW Touch Judge was Max Tomsett – unsure of the QRL Touch Judges name if anyone can help out?
Queensland's Arthur Beetson is involved in a scuffle with Parramatta teammate Mick Cronin during the first State of Origin game at Lang Park in 1980 with Max Tomsett keeping a keen eye on what unfolded.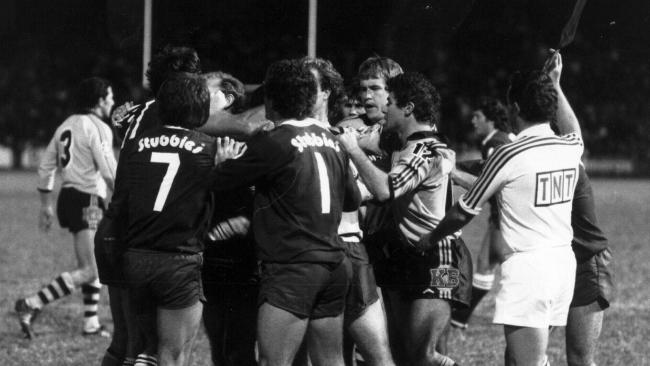 Queensland's Mal Meninga, Wally Lewis, John McDonald (coach) and Chris Close take time out to pose during training at Sydney University prior to the match.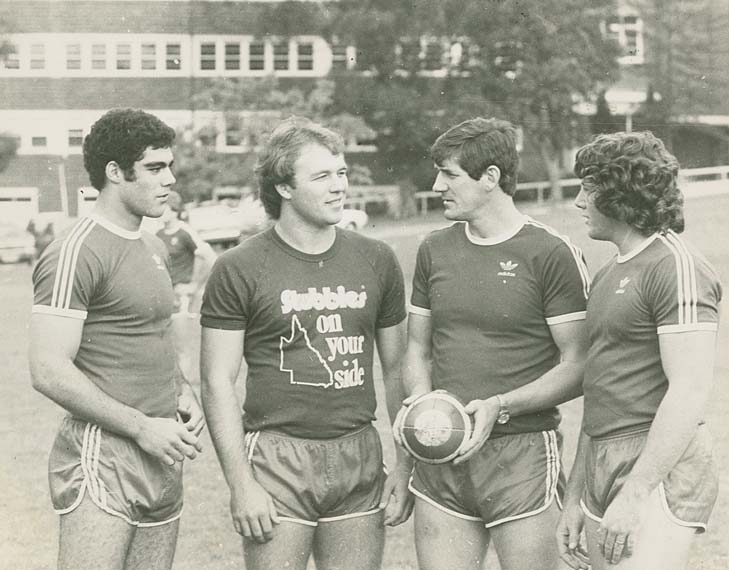 The stars of Queensland's State of Origin side Rod Morris, John Lang, Arthur Beetson, Greg Oliphant, Rod Reddy, Alan Smith and Kerry Boustead show they are as fashionable off the field as they are athletic while on it.