Barry Seymour Gomersall (1945–2007) was an Australian rugby league referee. Gomersall refereed six rugby league internationals and nine State of Origin series matches.
Nicknamed "The Grasshopper", Gomersall was known for his thin legs inside tight shorts and his habit of ignoring on-field fights.
First appointed to referee State of Origin by the Queensland Rugby League in 1982, Gomersall was often accused by New South Wales supporters of bias.
A reporter from New South Wales once asked: "How do you account for the fact that in your nine matches Queensland won seven and NSW won only two?", Gomersall was said to have replied "Well, surely anyone's entitled to two bad games." Gomersall placed a high priority on personal fitness saying "if someone is going to score a try, I want to be there first."
Gomersall was a long time Queensland Rail employee. After his refereeing career, Gomersall entered Queensland politics, standing for the electoral district of Mirani in five elections. Barry Gomersall passed away in Sarina in central Queensland on 9 February, 2007 from cancer aggravated by collision with livestock on his farm.
When Barry Gomersall passed, aged 61, NSW hooker Benny Elias paid tribute. "He was bigger than the players most of the time. He was the showman, the Grasshopper – a wonderful, wonderful man," Elias said.
NSW players and commentators largely shared a different view of the Mackay referee during a nine-match Origin career between 1982-88 in which NSW won twice.
Gomersall, who presided over a 1984 Origin game including a brawl in which Chris Close lost his jersey, coined one of Origin's most memorable quips about his NSW detractors: "It's mind over matter – I don't mind and they don't matter," Gomersall said.
Career Highlights –
SOO2 QLD v NSW Lang Park 08JUN1982
SOO1 QLD v NSW Lang Park 07JUN1983
SOO2 NSW v QLD Sydney Cricket Ground 19JUN1984
Papua New Guinea v Great Britain Rebiamul Oval (Mt Hagen) 05AUG1984
Championship 84/85 Oldham v Castleford The Watersheddings, Oldham 27FEB1985
Test Great Britain v France Headingly, Leeds 01MAR1985
Test France v Great Britain Stade Jean-Laffon (Perpignan) 17MAR1985
SOO2 NSW v QLD Sydney Cricket Ground 11JUN1985
SOO3 QLD v NSW  Lang Park 23JUL1985
Championship 85/86 Halifax v Salford Thrum Hall, Halifax 27OCT1985
World Cup Great Britain v New Zealand Headingly, Leeds 09NOV1985
SOO2 NSW v QLD Sydney Cricket Ground 10JUN1986
SOO2 NSW v QLD Sydney Cricket Ground 16JUN1987
SOO3 QLD v NSW Lang Park 15JUL1987
SOO1 NSW v QLD Sydney Football Stadium 17MAY1988
Great Britain v New Zealand 1985 Series
Game 1 Elland Road Leeds 19OCT1985
Game 2 Central Park, Wigan 02NOV1985
Barry's daughter Katrina said her father had revelled in the pressure-cooker atmosphere of Origin football.
"His whole career was a highlight for him," she said.
"He loved the game, the interaction, being out there in the middle.
"The main thing for him was that he loved what sport could do for people, particularly children, and the way you made friends from it.
"He had lots of friends from football himself."
 
Famous for "refereeing the football and not the fights", Gomersall was always amused by claims he was biased towards Queensland, which won seven of the nine Origins he controlled.
As a referee, he was outspoken and never afraid to face his critics.
While battling cancer, Gomersall had written on his website "the game is (only) over when the ref blows the final whistle".
"Our family would like to sincerely thank all the people who got in touch and wished him well," Katrina said.
"I certainly know my dad appreciated it."
A true character of the game and Barry will always be fondly remembered as "The Grasshopper"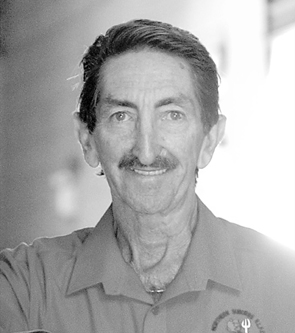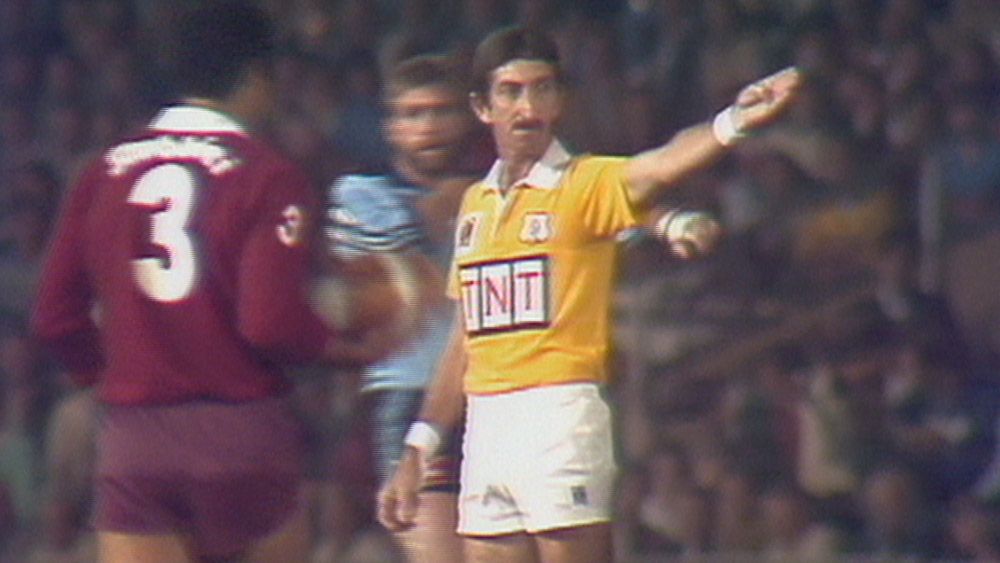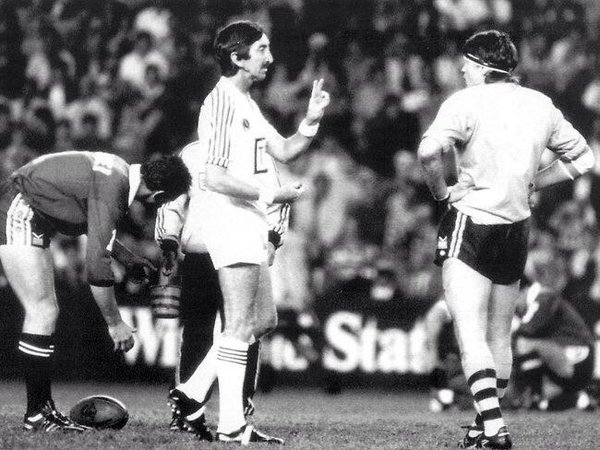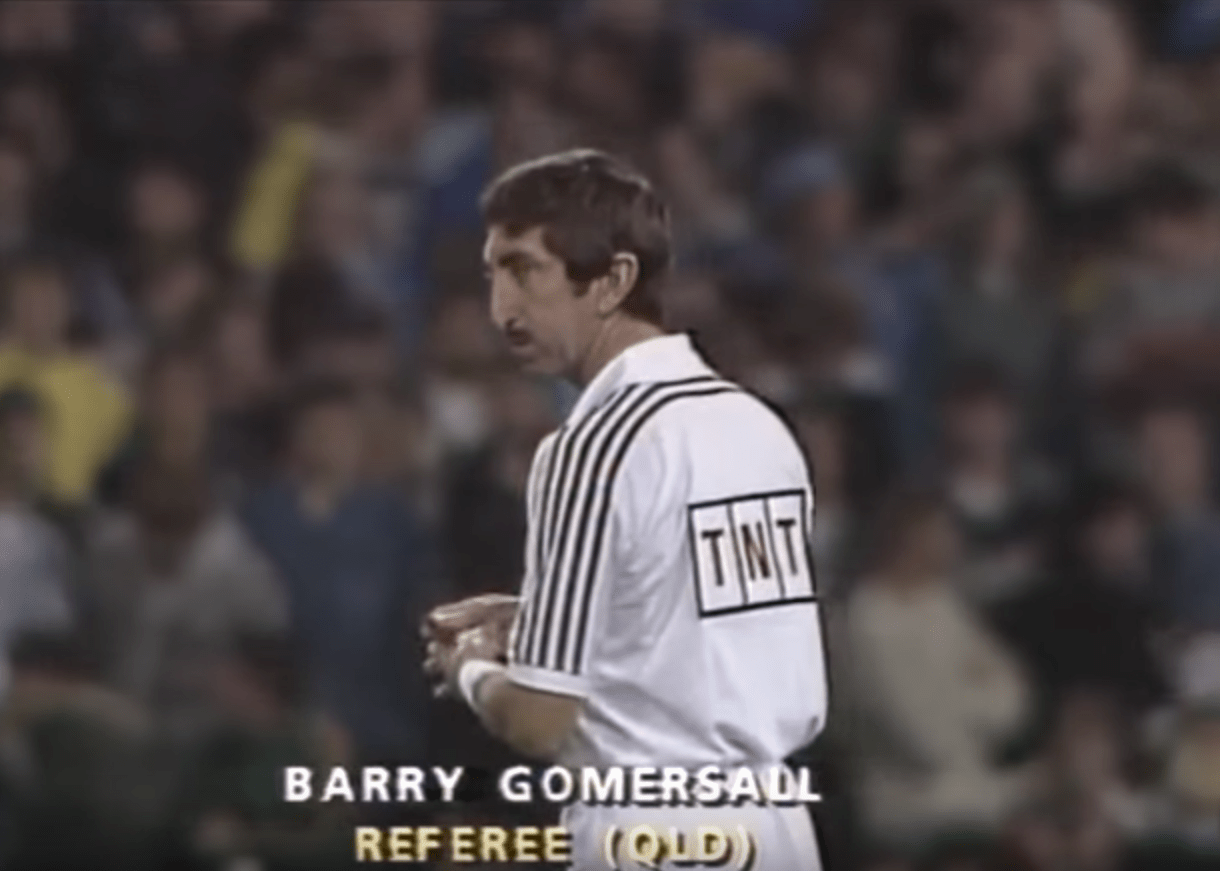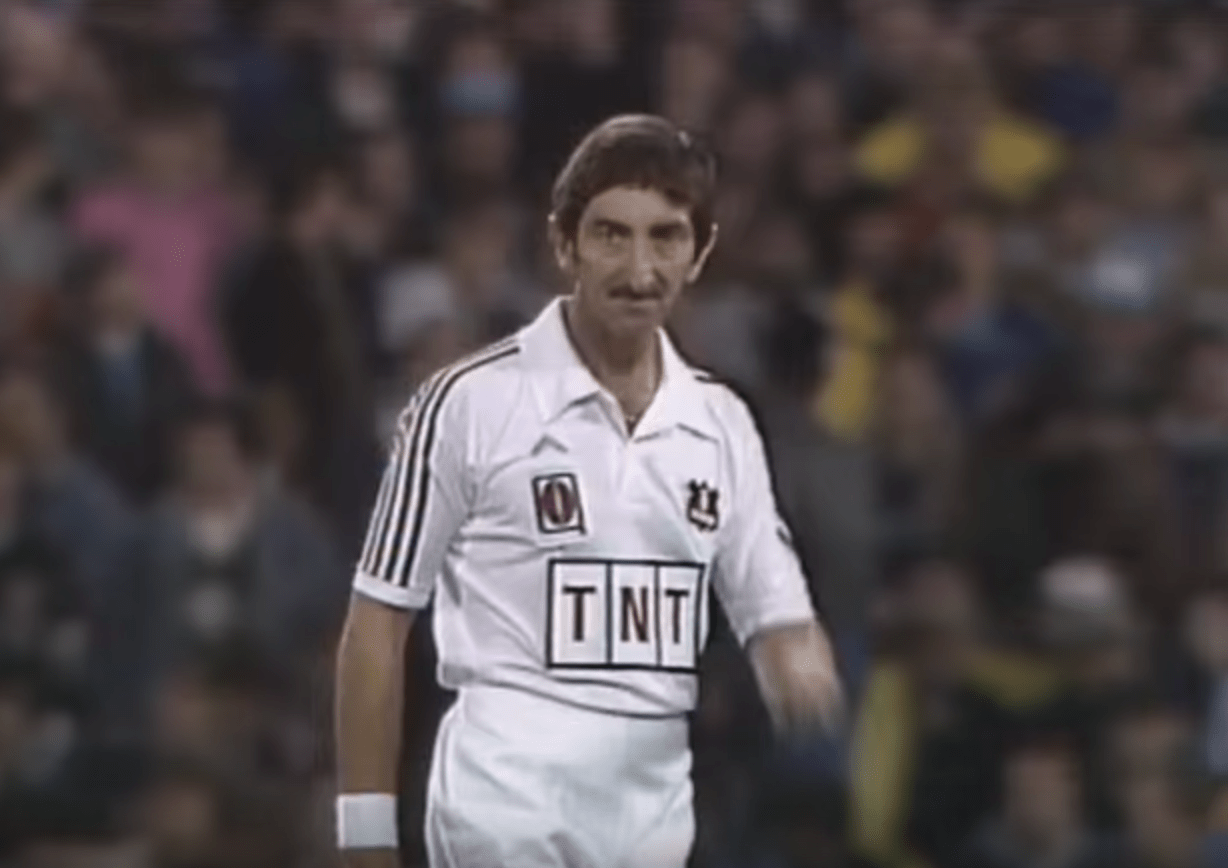 Barry with Mick Stone and John Colenso at the Veterans Memorial Stadium in Longbeach, California for the SOO exhibition game on 06AUG1987.