Today's #FBF stars Darcy Lawler – most credit goes to esteemed SMH League Reporter, Andrew Webster. Thank you Andrew for the story and for the research. #RESPECT
Darcy Thomas Elgan Lawler (1919–1994) was a NSWRFL Referee in the 1940s, 1950s and 1960s.
Darcy Lawler was a rugby league referee based in Sydney, Australia. A veteran of over 300 first class games, Lawler refereed at local, state and international level between 1944-1963.
His last match was the 1963 NSWRFL Grand Final.
He was later the secretary-manager of the Souths Juniors League Club for 27 years. Darcy Lawler passed on 27 February 1994 after a short illness.
Darcy Lawler's family debunk a grand final myth, while the referee's private memoirs reveal a strong man dogged by death threats and vitriol. By his very own admission, buried deep within the faded and unpublished memoirs written in long and sloping hand, Darcy Lawler knew where he stood in rugby league.
"I suppose, despite my high stature as an international and Test referee, I was rugby league's most hated man," writes Lawler, one of the most successful whistle-blowers but equally controversial figures in the history of the game.
"I've been hooted and hated on the field, and threatened with my life off it. I've been venomously sworn at by players, have sent them off the field. Even officials have accused me of accepting bribes to 'throw' matches, yet they denied all knowledge of their filthy accusations when I challenged them officially."
Lawler passed away in 1994 at the age of 75 and therein lies the problem, according to his son, Darcy Jr.
"The unfortunate thing is that he cannot defend himself," says Darcy Jr, who is 53. "Of course, Darce doesn't have a right of reply. The family over the years have let it go. "It annoys me that the further it goes on, people are prepared to get out and say he is a cheat, but nobody will speak on Darcy's behalf." The Lawler family broke its silence, and releases their late father's incomplete but revealing memoirs about his career.
Doubtless, the most controversial chapter of his life relates to the 1963 grand final between St George and Western Suburbs, which is equally embraced and admonished, depending on who you speak to. History best remembers it for the slop and mud and the image photographer John O'Gready captured of Dragons captain Norm Provan and Magpies counterpart Arthur Summons embracing each other at full-time.
Wests players remember the game slightly differently, strongly believing that Lawler, the referee that miserable September afternoon, had backed St George. They believed this because their prop, Jack Gibson, had turned to hooker Noel Kelly as they pulled on their boots in the dressing room and drawled: "We can't win. F..kin' Lawler has backed them".
"For Gibson and Kelly to say before the game they were off . . . Well, it got pretty damned close," Darcy Jr says, pointing to the 8-3 final scoreline. "It could've gone either way. The penalty count was pretty red-hot, but Darce said they deserved it. (Wests halfback) Keith Holman ended up being one of Dad's best mates his whole life. "Of all the incidents that Wests players have howled about for the past 50 years, the try to Dragons winger Johnny King, when he appeared to be tackled but allowed to rise and run again and score the match-winning try, is recalled the most.
Says Darcy Jr: "I've seen a replay of the 1963 grand final, with Darce, and we've seen Johnny King get tackled on the sideline there, and Darce tells me he didn't yell 'held', he wasn't held, he slips out of the tackle. It's very muddy, the Wests players say Lawler said 'held'.
"Well, ask the St George players and they'll say no. Darce said he never yelled it. King got up and scored and the rest is history . . . It's been going on for such a long time. He used to laugh it off himself when he was alive. He said, 'That's life. You cop that'."
To those who knew him, Darcy Lawler was a straight shooter, even if others considered him bent. He grew up on the streets of South Sydney, attended Marist Brothers in Randwick, became a 'milko' and then a referee, rising through the ranks and went to control seven grand finals between 1956 and 1963. Only Bill Harrigan has controlled more — 10 of them — but Lawler allegedly left as much of an impact in his own era.
Lawler owned a corner store next to South Juniors. When the secretary manager of the day walked out, Lawler was given a three-month contract because he held a liquor licence and stayed there for 27 years. He was on the board of the senior club, for a time, and his eldest son Ted played a handful of first-grade matches in 1964. His unpublished and unfinished memoirs do not contain references to 1963, although that should not be seen as a convenient shouldering of arms to the truth. In fact, he insists he turned down a pound stg. 300 bribe in 1954 to ensure England beat Australia in the third Test at the SCG.
"I received a letter in the mail box, no stamp, no post office mark, addressed to me with the offer of pound stg. 300 for me if England won the deciding Test. That was all that was said. This was quite a shock at first, but I finally summed it up as a joke. On arriving at the ground, I was about to go through the members gate and a gent asked me to sign his autograph book. Upon signing it, he said, 'Did you get the letter the other day?"'
Lawler informed league officials, and then awarded a try to centre Harry Wells that secured an Australian win late in the match. "My decision to award a try was the most provocative decision in history," Lawler writes. "But I could easily have copped 300 quid if I didn't."
The other famous story about Darcy Lawler also played out at the SCG, on July 14, 1962. Having lost the first two Tests against Great Britain, Australia faced the distinct prospect of becoming the first side to lose an Ashes series 3-0 on home soil. With a minute to go, Australia roared back into the match when winger Ken Irvine crossed in the corner. The North Sydney flyer was handed the ball, and presented with the ominous task of landing the sideline conversion to win the match, and restore Australian pride.
"Irvine came back with the ball to take the kick," recalls Lawler. "He placed the ball like a real professional, but standing 10 yards behind him in a direct line, I could see it was placed too far to the right of the post. If ever I felt like telling a player that he would miss a goal, it was then." This is where rugby league folklore takes over. The story goes that Irvine blessed himself, looking above for divine intervention in landing the goal. He was a part-time kicker, and needed all the help he could receive. The story also goes that Lawler chirped in with this: "Not even He's going to help you if you don't straighten up that ball, son." Irvine says, in his memoirs, it didn't happen. "And then it was like magic. He did not k=kick the ball. He went back, re-set the ball as if I had telegraphed it to him — and then he kicked the goal and Australia won by a point." Not everyone in the game disliked Darcy Lawler, even those who didn't know him.
"Often I received amorous letters from adulatory women fans telling me how nice I looked when I ran on to the field in immaculate uniform with hair well-oiled and brushed back. The ladies asked me to meet them. Such is fame." According to Darcy Jr, he never accepted those off offers, just like he never accepted any bribe.
Darcy's record on the Rugby League Project shows he officiated in many Graded games including Interstate games, Grand Final's, International's and Ashes Series fixtures.
His final game was the 1963 Grand Final (as pictured and with a YouTube link) at the Sydney Cricket Ground. The date was 24AUG1963 with a huge crowd of 69,860 in wet and soggy conditions.
www.youtube.com/watch?v=JwqF8aHKTHI
As a tribute to Darcy on this day of his retirement at the SCG the NSWRL saw fit to recognise his service by a special farewell prior to the West's v St George Grand Final. At the buffet after the game approximately 200 colleagues friends and family attended to say farewell to one of the great Referees's. Some approximate numbers below…
350 – First Grade Games
16 – Test Matches
8 – International Touring Matches
7 – NSW v QLD games
4 – 3rd Grade Semi Finals, Finals and Grand Finals
6 – 2nd Grade Semi Finals, Finals and Grand Finals
16 – 1st Grade Semi Finals
9 – First Grade Finals
7 – First Grade Grand Finals
2 World Cup Games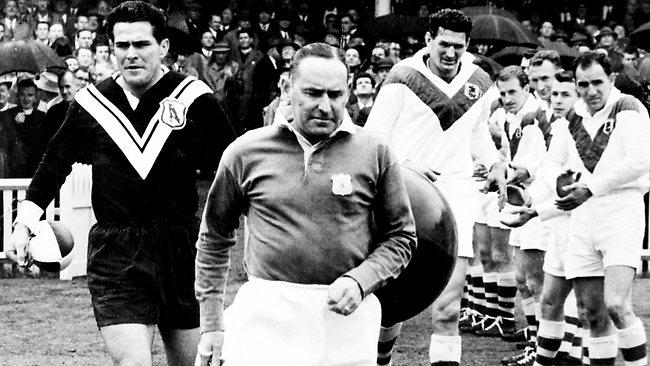 Referee Darcy Lawler leads Kel O'Shea (L) and opposition captain Norm Proven for his last game with the whistle for St George v Wests 1963 first grade Grand Final at SCG in Sydney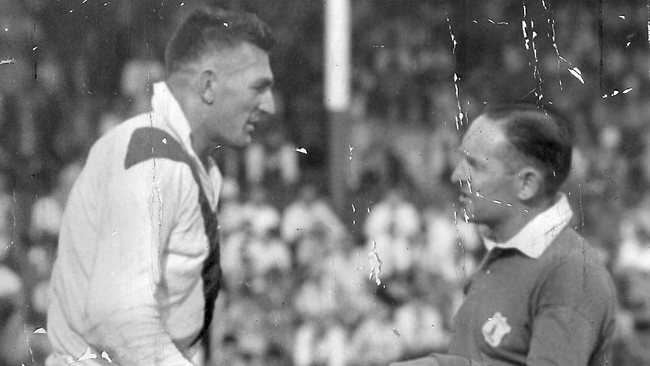 Darcy Lawler issues caution to St George captain-coach Norm Provan at the SCG in Sydney in 1960.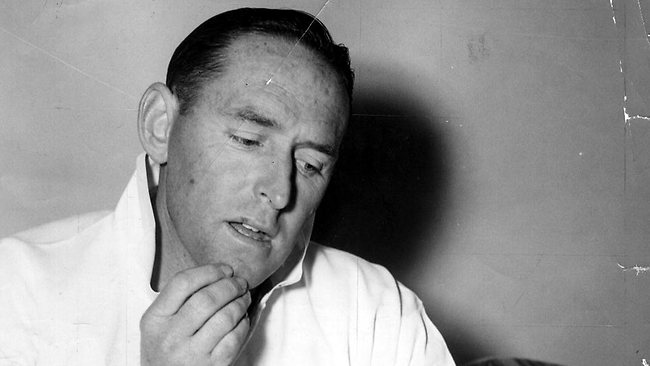 Darcy Lawler in 1955.