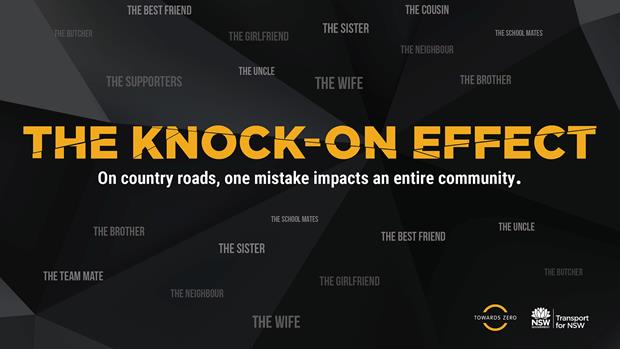 The NSW Government has today joined forces with the nation's leading rugby league bodies, the National Rugby League (NRL), NSW Rugby League (NSWRL) and Country Rugby League (CRL) to announce a historic two-year partnership, in an effort to save more lives on country roads.
As the Government prepares to tackle road safety in the country head-on with this sporting partnership, the launch also marks the start of many initiatives expected to be rolled out this year.
Minister for Roads, Maritime and Freight Melinda Pavey says the statistics on country road deaths and injuries are appalling.
"Someone is killed or seriously injured in a crash on our roads every 85 minutes – about the same time it takes to play an elite game of rugby league," she said.
"The sad reality is that you're five times more likely to be killed in the country than in our big cities, highlighting the fact that we have a problem in regional and country NSW and as a Government we're committed to doing everything we can to save lives on country roads.
"When our locals go to the footy the action stays on the field and the sideline, not on the roads."
This year the government will spend a record $253 million on road safety initiatives in NSW and people in the country can expect to see additional education and awareness campaigns.
"We will also be fast-tracking the delivery of projects that will address the biggest risks on our roads to reduce crashes and the number of deaths and serious injuries," she said.
Launched today at Rugby League Central, the Knock-on Effect campaign talks to the harrowing effects road trauma is having on local communities, encouraging people to make smarter and safer choices behind the wheel.
NSW Centre for Road Safety Executive Director Bernard Carlon said of the 384 lives lost on NSW roads in 2016, 254 people were killed on country roads.
"Most of these fatalities involve local people – each of them causing a 'knock-on effect', leaving families and communities across our state devastated," Mr Carlon said.
"This partnership is one we knew was the right fit when it came to spreading these important road safety messages to people in our country towns.
"It's about a shared vision for the type of culture we want to develop across the community and within sport.
"I thank the league and its administrators for acknowledging the fact that all these deaths and serious injuries are preventable and for their support for moving Towards Zero."
NRL Chief Executive Officer Todd Greenberg commended the NSW Government on their increased efforts and commitment in aiming to reduce the number of road fatalities across the State.
"It is always devastating to hear of any injury or loss of life on our roads, particularly when in some cases, an accident could have been avoided," Mr Greenberg said.
"Wherever we can use the collective voice of the NRL, NSWRL and CRL in partnership with the NSW Government to persuade change for the better and in this case, to remind people to be safe whilst driving, we're only too happy to be part of a change for good."
New South Wales Rugby League Chief Executive Officer, David Trodden said the partnership would enable Rugby League to be used to deliver important road safety messages, particularly throughout NSW country towns.
"Many areas in country NSW have played home to some of the game's biggest names," Mr Trodden said.
"The opportunity to give back to these communities through a road safety program like this one is extremely rewarding and we are delighted to be a part of announcing this campaign and important message in the lead-up to the Country-City match in Mudgee next Sunday."
Country Rugby League Chief Executive Officer Terry Quinn said the latest statistics should serve as stark reminder of the importance of road safety awareness in regional areas.
"These are alarming statistics which need to be addressed and it's great to see the NRL, NSWRL and CRL working together with the NSW Government to tackle this issue," Mr Quinn said.
"Rugby League is part of the social fabric of many country towns and we're hopeful that by promoting road safety awareness through our game, we can help to reduce the number of fatalities and serious injuries on country roads."
The 'Knock-on' Effect campaign gets underway next week as the NRL Country Roadshow visits schools and communities in Sydney, Orange, Bathurst and Mudgee ahead of the NRL City vs Country match in Mudgee on 7 May where the sporting partnership will be brought to life.
Players from both Country and City teams will visit schools and communities as part of the roadshow and in the lead up to the match.
The NSW Government will launch a new country roads advertising campaign later this year.
For more information about the partnership and the Government's commitment to bringing down the country road toll visit theknockoneffect.com.au
Save
Save
Save